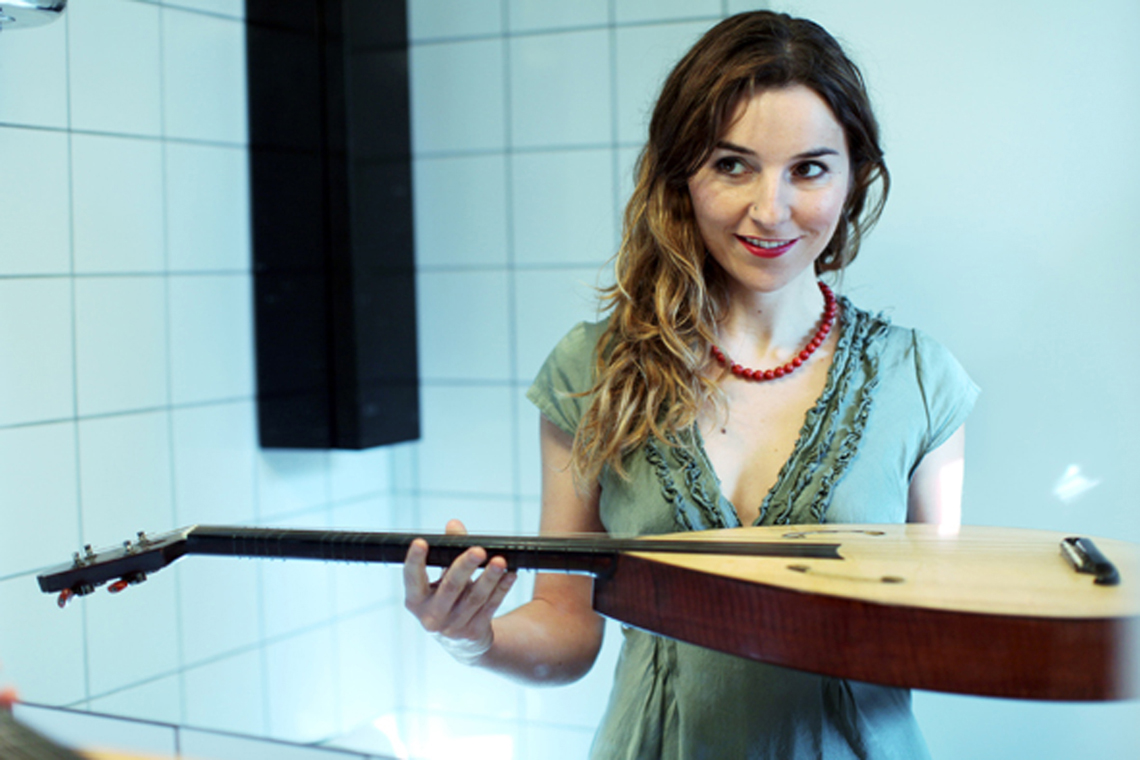 Martha Mavroidi is a singer, lutist and composer from Greece. She has been singing and playing folk lutes from her childhood, performing music from Greece and the Balkans. Later she developed an interest in contemporary music, blending elements of folk music with contemporary harmony and improvisation. Her critically acclaimed debut album "The Garden of Rila" established her as a first class folk musician and singer of the new generation, as well as an accomplished composer and orchestrator. In March 2013 she featured in the cover of fRoots magazine as "Balkan music's rising star". Constantly working on new projects, performing with different music ensembles and composing for films and dance shows, she keeps developing her versatile musical personality through a multiplicity of influences. Her music is often described as an amalgamation of Balkan and jazz music elements. Since 2013 Martha is the artistic director of Tinos World Music Festival.
You could be in Athens, Istanbul, Sofia, Manhattan but the truth is that, with Mavroidi, you are in all of them at once.
Michael Church, The Scotsman
Balkan music's rising star
fRoots
She has collaborated with significant musicians and ensembles such as the legendary Greek folk violinist Stathis Koukoularis, ECM artist Savina Yannatou, English folk singer and violinist Eliza Carthy, and the Greek National Opera. Martha has worked extensively with vocal music, and she has collaborated with choirs and vocal ensembles, composing and arranging music for voices a cappella. She conducts the "Happy Hour Choir", a workshop in the form of a vocal orchestra.
She has participated in various world and contemporary music projects in Europe and the United States. With Martha Mavroidi Trio she has toured in Sweden, Spain, France, Germany, Austria, Turkey, Cyprus, USA and Greece, and performed at Womex Globalkan Scene in 2012.
MARTHA MAVROIDI TRIO
Martha Mavroidi voice, lafta, electric lafta, saz, loop station
Yiannis Papadopoulos piano
Giorgos Ventouris double bass
MARTHA MAVROIDI QUARTET
Martha Mavroidi voice, lafta, saz
Stratis Psaradellis politiki lyra
Vangelis Karipis percussion
Giorgos Ventouris double bass
YASEMI VOCAL QUARTET
Martha Mavroidi
Irini Derebei
Maria Melachrinou
Tasos Poulios
Ivan's Rachenitsa

Martha Mavroidi

4:19

Kopanitsadam

Mavroidi Trio

3:18

Yasemi

Yasemi Quartet

3:07